Hosted by the Flaming Gorge Chamber of Commerce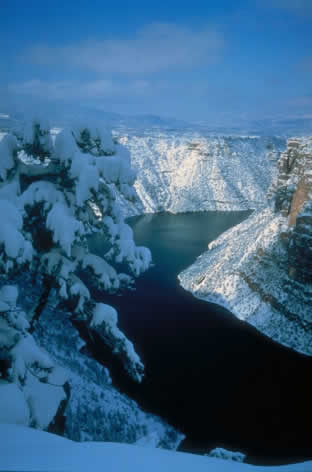 Burbot Bash
"We are excited about using the Burbot Bash as a forum to increase public awareness of this threat to the Flaming Gorge fishery", says Mark Wilson, president of the Flaming Gorge Chamber of Commerce. "It is also a great way to introduce anglers to the family-friendly sport of ice fishing that is so popular in Flaming Gorge."
Burbot are best caught at night and in the winter, so ice fishing is very productive for this problem species. There is no catch limit in Lake Flaming Gorge for Burbot and state game officials in both Wyoming and Utah encourage anglers to harvest as many as possible.
"Efforts by Wyoming and Utah fishery personnel to manage against Burbot in the Green River drainage have been and continue to be multi-faceted. Burbot management is a combination of information, education, angler recruitment, research and regulation," said Robert Keith, Regional Fisheries Supervisors for the Wyoming Game and Fish Department. "Yet, angler harvest is currently the most effective tool available to reduce Burbot numbers in the drainage. The Burbot Bash is a terrific opportunity to drive that message home, increase public interest in Burbot fishing and remove a lot of Burbot. Since 2011, about 21,000 Burbot have been removed by anglers participating in the Bash. Every Burbot removed is a savings in sport fish like Smallmouth Bass, Kokanee and Rainbow Trout. Hopefully a record number of participants remove a record number of Burbot during the upcoming 2018 Burbot Bash!"
The event kicks off with on-site registration at the Hub Restaurant in Manila on January 26th. Throughout the weekend, the derby is on! Teams of up to 4 anglers can compete for over $20,000 in cash and prizes, including cash awards for most burbot caught, largest burbot and several youth categories.
A unique feature of the Burbot Bash is the opportunity for anglers to catch tagged fish. A select number of Burbot have been implanted with internal tags, which can only be identified with specialized electronic readers. State fish biologists hope to learn more about the extent of the Burbot problem in Lake Flaming Gorge based on tag return data. Information from the tagging program will allow biologists to determine a variety of information about the species including: movement, migration, survivability, growth rates and population estimates.
The tagged fish part of the derby gives any angler the opportunity to catch one fish worth a Tagged Burbot Grand Prize of $1,500. "Tagged fish contests are great because they level the playing field," says Ryan Mosley, Flaming Gorge project leader for the Utah Division of Wildlife Resources. "One angler can catch a single burbot and potentially take home more money than those who check in hundreds."
The catch? Tournament anglers will not know if they have caught a tagged fish or not. Therefore, all Burbot caught will need to be checked in and scanned for tags at the check-in sites that will be open daily throughout the derby. All other tagged fish will be eligible to take part in the Tagged Burbot Rewards prizes. In 2017, every angler catching a tagged fish received $100 in addition to their catch still being available to compete for other prizes.
Mountain America Credit Union has signed on to be marquee sponsor of the event. "We applaud the efforts of Mountain America in improving the quality of life in local communities through their sponsorship of events like this", says Wilson. "Their support helps makes this tournament one of the best held."
Entries will be taken up to 8:00 pm on January 26, 2018, at the registration station located at The Hub on the Utah/Wyoming border just outside of Manila. Entries taken the day of the Bash will be $20.00 more per team and must be paid in cash. Therefore, the Chamber encourages anglers to pre-register as soon as possible at burbotbash.com. This will allow for more prizes to be purchased for event giveaways. And, the first 150 teams to register are eligible for a $500 Flaming Gorge getaway package.
The Bash will conclude with a prize award ceremony featuring angling awards, the tagged fish drawing and more on Sunday, January 28th at the Rodeo Grounds in Manila, Utah. "The closing events are open to all the public", reminds Wilson. "You do not need to enter the Derby to come out with your family and have fun at this great winter event."